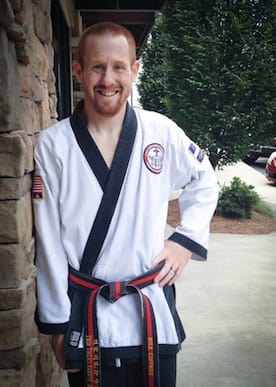 Master Nick Coffman
Sa Bom Nim
5th Degree Black Belt
Born in Winston-Salem, NC, and raised in South Florida, Nick and his wife Jen now live in Barrow County, GA.
Nick's career began in South Florida when he and his brother Matt began working at age 6 as models and actors. Being involved in making movies, television ads, print work as children, inspired them to begin training in the martial arts for self defense.
At age 14 Nick received his 1st Dan Black Belt in Tang Soo Do and his family then moved to Georgia. In May 1996, at age 15, Nick and Matt began Twin Tigers classes in a local church and immediately had over 40 students. While teaching karate, Nick also worked other jobs such as maintenance in churches, set ups, electrical work, manufacturing, etc.
Nick is a 5th Degree black belt in Tang Soo Do, has many years of experience in submission grappling and is working towards ranking in Brazilian Jiu Jitsu and is certified in FIGHT CUT Combative Training. His strong Christian values and beliefs have kept him walking the high road. He has mentored many students, children and adults alike, that have come through the doors. Nick continues to make an impact on his students, his church, and his community as his unique and creative way of teaching instills ethics, morals, and respect in his students.
Nick is available for speaking to groups— motivating, inspiring, and challenging, children and adults—- to do their best and make the best of what has been given them, to lead productive and responsible lives, and to make positive impacts on family and society in general.
Nick is on the Board of Directors for the United States Goodwill Tang Soo Do Association